CA Fines Pastor Ng'anga KES 1 Million For Exposing Woman's Breasts
The Communications Authority of Kenya (CA) has fined popular televangelist James Ng'ang'a over content aired on his Sasa TV free-to-air channel.
CA Director of Public Affairs Chris Wambua stated that the Neno Evangelism Centre proprietor exposed a woman's breasts during a Live TV show during hours when adult content is restricted.
"He has been fined 1 million shilling for continuing to broadcast when a woman's breast were exposed.
"This happened during the watershed period which is in violation of one of the Communication Authority rules and regulations. He was first issued with a warning which we expected him to stop but he did not," Wambua explained.
According to the CA regulations, adult content is strictly prohibited on TV between 5 am and 10 pm. It is also known as the watershed period.
Viral Pastor Ng'ang'a videos
In his defense, Apostle Ng'ang'a has claimed that he should not be held responsible for whatever happens during what he calls a deliverance service.
He further claims that he had appealed CA's decision to fine him and he is still waiting for feedback on whether his appeal was successful.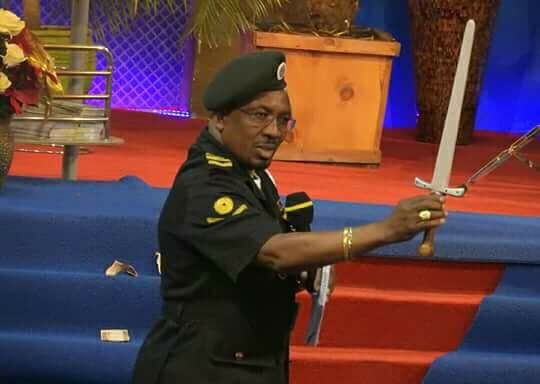 Controversial televangelist Pastor James Ng'ang'a fined Sh1 million for exposing woman's breasts on Live TV
Kenya Films Classification Board (KFCB) CEO Ezekiel Mutua had on Thursday remarked that the televangelist needed to be regulated.
"Much as the government should not regulate churches in terms of what believers choose to put their faith in, the content delivered by the pastor may be scrutinized. He shouldn't be allowed to con people in the name of a pastor.
"And this is why I believe NCCK, EAC and others should call Pastor Ng'ang'a and have a conversation. We are not against religious leaders like Pastor Ng'ang'a but I believe all this madness comes because we have shown him and even our political leaders that they need to do crazy things so that they trend," Mutua stated.
Hon Passaris and King Kaka involved in a heated twitter exchange
Wajinga Nyinyi hit-maker Paul Ombima alias King Kaka has been involved in a heated exchange with Women Rep. Esther Passaris over Ksh 50 million investment.
Esther Passaris who underwent spinal surgery in India received a backlash from Kenyans over her abroad treatment.
One George Gathecha asked her how she expects people from slums will feel when they can barely afford treatment at KNH?
In response, she asked what he is doing about it before revealing how she invested Ksh 50 million to get re-elected in addition to being part of the health committee shaping the country.
"What are you doing about it? #ManUp I invested 50 million to be elected a leader. I served way before being elected. At 55 #OfficiallyMadeOfTitenium because of the sacrifices I made. As a member of the Health Committee, we shaping the Presidents"
The comments did not go well with King Kaka who shamed her as he accused her of being selfish.
"The talk should be on how we have made our health reliable to the point you are getting your surgery at KNH.
Wewe Uko Hapo unatuambia juu ya 50million. Stop being selfish for once, just for once and serve the people who put you there. Shame"
Passaris responded to the rapper alleging that he is 'full and fooled' by himself.
She continued by saying that word can instruct but they can never do the work or lead.
"You are so 'full and fooled' by yourself. 'Words' can instruct but they don't do the work or lead.
Let me spell it as it is. Get off your high horse & stop being who you truly are #WajingaNyinyi who thinks through hate you can drive or derive change. I have worked & served. You?"
City Lawyer Steve Ogolla Conned KES 500,000 by Facebook Lover
A vocal city lawyer is counting massive losses after a woman he met on Facebook allegedly fleeced him of KSh 500,000. Steve Ogolla narrated how he was in a fake online relationship with a woman only identified as Dorcas Sarkozy.
In a disturbing Facebook confession, the lawyer alleged he even went to an extent of planning a wedding with a woman he had never seen. He claimed he sent his baby love money to cater for their wedding expenses but noticed later he had made a terrible decision.
At first, the high flying lawyer tried to report the issue but after being frustrated and having his intimate chats leaked, he gave up the fight.
"All I know is I was in a fake relationship with this lady and she conned me in excess of KSh 500K," Steve lamented. The pressure of the whole confusion brought Steve to his knees and he even contemplated suicide.
"I reported the issue to authorities but she came back and blackmailed me by sharing private love Whatsapp chats with her third part parties," the netizen wrote.
The hopeless romantic hoped fellow social media users would help expose the woman and bring her to justice. Most people failed to understand how someone so learned ended up being duped in the most callous and effortless manner.
The last time Dorcas made headlines, she was quoted accusing journalist Enock Sikolia of cheating on his wife.
Source: Tuko News
Naivasha love festival to work with Capital FM
Naivasha Love Festival (NLF) through its chairman Kimani Gitau has today signed a partnership deal with Capital FM through its Commercial Director Farida Idris ahead of the festival slatted for February 14th and 15th 2020.
Capital will for the first time host the Koroga festival Naivasha edition during the inaugural love festival in Naivasha.
In a bid to raise funds for the Ksh. 25 million event, NLF has secured several sponsors including Naivas Supermarkets and Kenya Airways who have agreed to support the initiative.
During the launch of the event recently held in Nairobi, Mr. Gitau stated that the event is targeting a huge audience to experience a delightful mix of fun, culture, food and music during the duration.
"In partnership with the county and national government we plan on creating parks where people will enjoy and bring families together," said Gitau adding that there will be a showcase of African culture and art with an international touch together with Lake Naivasha clean up exercise.
He noted that the county government has allocated a sum of Ksh.300 million for the construction of a 50 kilometer boulevard walk around Lake Naivasha stating that they have the support of the Nakuru county government and The Ministry of Tourism and Wildlife.
Gitau alluded that the event will soon be taking place in the 5 cities in Kenya after the inaugural two day event adding that it is the new big wave in Africa and beyond.
NLF is targeting more than 10, 000 tourists from all over the world and over 5, 000 local tourists during the festival which will position Naivasha as the destination of love in Africa.
The event will encompass a myriad of activities including Mt Longonot hike, Lake clean up, cycling, Koroga lovefest, Eburu forest hike and a showcase of culinary arts
END…